Exteriorguard® Yellow Exterior Guardrail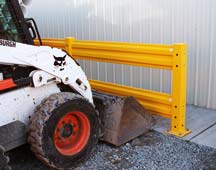 Our new Exteriorguard® guardrail is designed to protect exterior walls of buildings, walkways, electrical equipment, valving, trash dumpsters, loading docks, and storage in an outdoor environment.
The Exteriorguard® system provides a highly visual yellow safety barrier as well as a physical barrier rated at a 10,000 lb. at 4 mph breakthrough. The standard Exteriorguard® system is offered in rail lengths from 2 feet to 10 feet long to compliment the double posts. Galvanized fasteners and floor anchors are included with each order.
Technical Data and Test Results
Exteriorguard® uses a high tech safety yellow powder coating for each rail and post. This coating has been tested in a 2000 hour salt spray test conforming to ASTM B117. See the results of the salt spray test. You can also find more detail on our technical data sheet.

®
posts have been designed to be mounted to concrete with special galvanized floor anchors. (4 per post) The free
Exteriorguard® worksheet
helps you to spec your exterior guardrail project.
Three Ways to Order:
CALL TOLL-FREE at 800-868-5438 in US and Canada or International 1-724-446-2000.   Our sales personnel will be happy to answer your questions and will confirm the order, payment terms and shipping date.
ORDER ONLINE with the form on the Exteriorguard®page.  Simply fill out the quantities desired for each item.  Fill in the contact information and click the Submit Button.  We will contact you to confirm availability, payment terms, and shipping date.
DOWNLOAD AND PRINT the free worksheet.  Complete the customer information.  Using the grid, draw a layout of your project (including dimensions and other facts such as rail height). Fax a copy to 724-446-0988 or scan and email to sales@herwin.biz.  We will evaluate your needs and develop an economical material list for your project, price the order, provide an estimate of freight costs with lead time, and fax a completed quote back to you within one business day.
Learn About More Great Products from Herwin Safety, Inc.
In addition to our interior and exterior guardrail, Herwin Safety, Inc. also sells other materials handling products.  See www.Palletsmith.com for pallet trucks and pallet jacks.
And secure your pallet jack with our unique Stop H' Hold pallet jack stop – sometimes called a pallet jack chock.  Ideal for trucking companies and freight carriers, this lightweight device quickly secures your pallet truck to protect valuable freight and prevent trailer door damage.
Exteriorguard® Product Details
February 20, 2017