"We have found many uses for Displayguard in our Building Products Distribution Center beginning with welcoming visitors. In our warehouse we use Displayguard Instant Messaging System to inform employees of safety meetings, recognize employees, or summon and employee to the office.
It's a great way to inform warehouse employees that a will-call customer has arrived to pick up an order, eliminating excess waiting time.
Our visiting Corporate HR/Safety Rep was very impressed with it."
Nicole Shoup
Operations Manager, Georgia-Pacific Corp.
Displayguard® LED Display Unit to Improve Safety
New Design
Displayguard® has been redesigned to feature a full face design of Lexan type material enclosed in a captive rail.  This design is durable and easy to install.
This image shows the newest design of Displayguard® which debuted at the ASSE Show.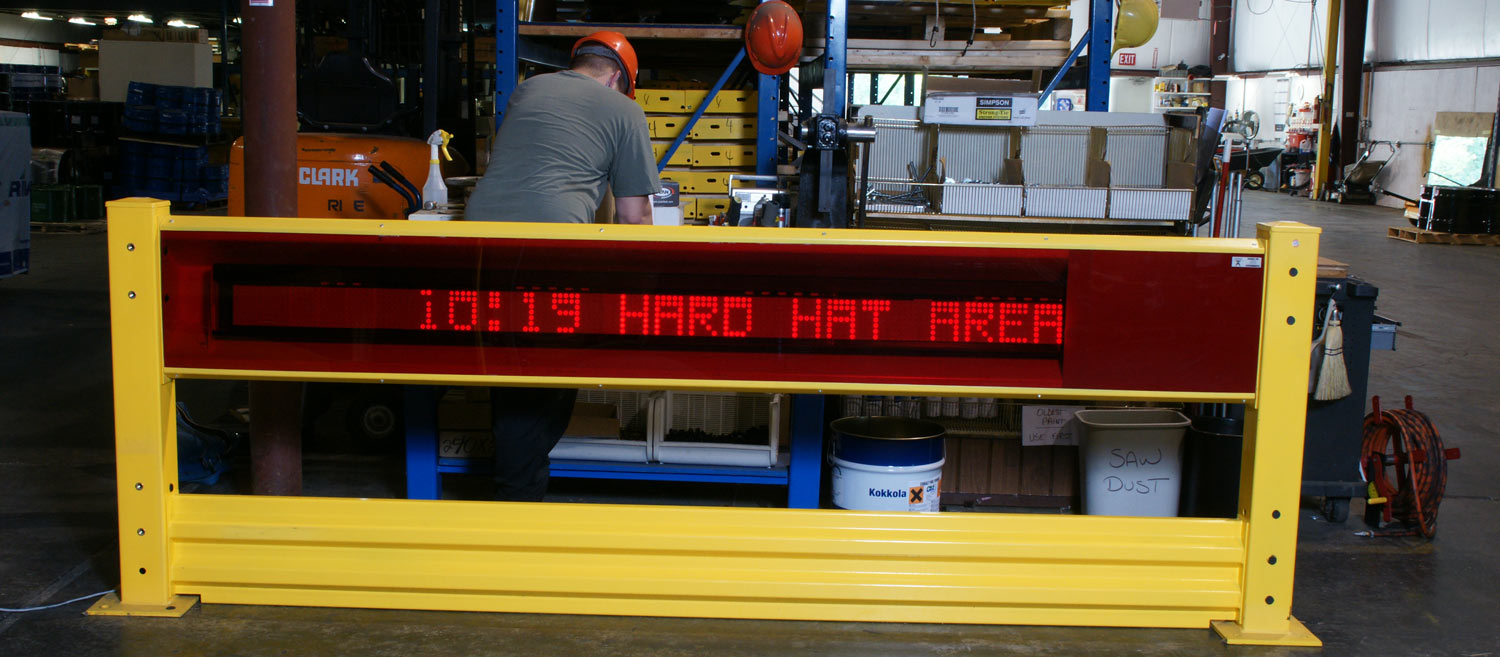 Get the Message with Displayguard®!  Moving message signs that improve industrial safety and communication.
Easily installed into your existing guardrail and computer network.
Enter your safety message from a network PC and have it displayed instantly.
Various levels of access enables plant security personnel to have ultimate sign control.
Our LED display unit's software uses the Occupational Safety and Health Administration safety message clarification system.
Software automatically updates multiple calendars for loss prevention days.
Safety messages are selected and transmitted to Displayguard's industrial safety LED display units by managers, supervisors, or office personnel via our easy to use Windows based software.
Over 250 preset messages, from "Hard Hats Required" to "Emergency! Evacuate Area," a wide selection of safety messages is available in OSHA categories: General, Notice, Caution, Warning, and Danger.
Industrial safety has many components.  From general warehouse to fork lift safety, one big challenge is communication.  Speaker systems located in operating areas are often difficult to hear and do not result in effective employee direction across a large and complex workspace.
Imagine, moving message signs able to direct everyone from delivery drivers to medical personnel to the correct location. Great for safety notices, warnings, or employee recognition. Use over 250 preset messages or easily create a special message in your own words.
Patented Industrial Safety Electronic LED Display
Displayguard® moving message signs are a patented industrial safety electronic LED display.  Contact Herwin Safety, Inc. to learn more about how Displayguard®:
Combines a protective steel guardrail housing with a highly visible, computer controlled LED display.
Connects to your existing guardrail to display industrial safety information in real time.
Moving message signs readable at up to 200 feet by floor personnel and mobile equipment operators.
Use your 110 volt AC power supply and computer or router connection.
User-friendly software is easy to use.
Windows-based software is compatible with most computer networks.
Contact Herwin Safety, Inc. today to learn more about Displayguard.®  These durable and computer controlled moving message signs can help you improve industrial safety and communications at your facility.
Serving Industry and Government
The patented Displayguard® industrial safety LED display, manufactured by Herwin Safety, Inc. , was created to enhance workplace safety in industrial, commercial and government complexes, warehouses, and depots.  When observing the operation of our LED displays, manufacturers, material handlers, contractors, and floor operating employees can readily appreciate the unit's durability, ease of use, and visibility.

Displayguard®
February 20, 2017