About Displayguard® Industrial LED Safety Display
From an attention grabbing emergency sign to a broadcast of workplace safety tips, Displayguard® LED display units facilitate plant floor communication by directing selected messages to mobile equipment and production personnel using your computer.
Our Industrial Safety LED display is composed of three key components:
Enhance Employee Safety Awareness
Displayguard® software comes with over 250 preprogrammed workplace safety messages and general messages, categorized in five classes: General, Notice, Caution, Warning, and Danger.  From use as an emergency sign to a display for workplace safety tips, you choose a preset message or create your own message as needed.
OSHA Message Categories Include:
General preset messages include workplace safety tips like "Think Safety First" or "Be Careful, Bend Knees When Lifting."
Notice messages present safety requirements like "No Cellular Phones" or "No Smoking in this Area."
Caution has messages such as include "Caution: Ear Protection Required," "Hard Hats Required," and "Caution: Carbon Monoxide May Be Present."
Warning messages range from "Hazardous Materials" and "Wear Your Respirator" to "Look Out for Forklifts."
Danger class messages represent the highest alert level.  Your Displayguard® becomes an emergency sign declaring "DANGER!!! FLAMMABLE MATERIALS" and "DANGER!!! HAZARDOUS AREA" or "EMERGENCY! EMERGENCY! EVACUATE AREA."
Call us today to learn more about how Displayguard® can help you improve workplace safety and communications at your facility.
Create a Custom Safety Message Targeted to Your Safety Risks
The Displayguard® software allows you to create your own safety message.  Customize how the employee safety message appears on the LED Display by changing the flash speed and scroll speed.  Instantly send your custom messages to one or more Displayguard® LED display units via your computer network.
Security Levels and Password Protection
Your IT administrator can establish the security levels and password protection to grant each user access based on their work responsibilities.  While a secretary may start general employee safety messages on Displayguard's LED display, a designated operations manager, safety supervisor, or plant security can override these messages with specific employee request messages, workplace safety tips, or emergency Warning and Danger alerts.
Report Plant Safety Progress
Displayguard® software provides automatic updates to a daily calendar, which is ideal for posting a count of accident free days for the facility or department. Multiple daily count calendars can be customized for each application.  This is an excellent default when personnel directed messages are not being displayed.
Contact Herwin Safety, Inc. today to learn more about how Displayguard® can help you improve workplace safety and communications at your facility.
Rail Enclosure Protects LED Display
The guardrail enclosure's unique recessed design houses and protects the electronic display.
Unique end plate design permits the 10-foot guardrail housing to be installed with Guardsmith® or other major industrial guardrail systems.
Easy Installation by Your Personnel
Installation is easy.  Displayguard® LED display units can be incorporated into new installations or retrofitted in existing plant guardrail systems.  Adapts to Guardsmith® or other major industrial guardrail designs.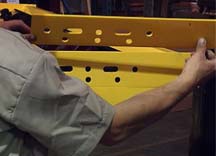 Shims are available to accommodate 4" or 5" square columns and endplates are predrilled to allow retrofitting with most guardrail manufacturers.
Power and communications are provided by plug-in connectors that accept 110 Volt AC power and connect to local area networks. Communication cables available in most industrial locations.  A direct computer to sign link can be established with COM port / RS232 cables, available through Herwin Safety, Inc.
The Displayguard® electronic industrial safety message units, installed in combination with Guardsmith® guardrails, improves employee safety in sensitive plant areas such as electric control panels, in-plant offices, equipment, or pedestrian walkways.
Contact Herwin Safety, Inc. today to learn more about how Displayguard® can help you improve workplace safety and communications at your facility.
Serving Industry and Government
The patented Displayguard® industrial safety LED display, designed by Herwin Safety, Inc. , was created to improve workplace safety in industrial, commercial and government complexes, warehouses, and depots.  When observing the operation of our LED displays, manufacturers, material handlers, contractors, and floor operating employees can readily appreciate the unit's durability, ease of use, and visibility.

About Displayguard®
February 20, 2017