Safety Pedestrian Swing Gate from GUARDSMITH®
Model # GS-GATE
The Guardsmith® Safety Pedestrian Swing Gate incorporates two spring-loaded hinges that automatically close to prevent accidental entry into protected areas.
Guardsmith® pedestrian swing gate is manufactured as an accessory to the Guardsmith® and Notchguard® series of industrial guardrail.
The swing gate is powder-coated safety yellow and incorporates rubber stops to assure quiet operation.
The swing gate can be mounted left or right swing and the length is adjustable from 33″ to 48″. Each swing gate includes all adjustment and mounting hardware.
Optional safety and message signs can be mounted on the swing gate with sheet metal screws.
The swing gate is not rated for impact resistance like the Guardsmith® & Notchguard® industrial guardrail and should not be relied on for crash protection.
To place your order, visit our Guardsmith Order Page.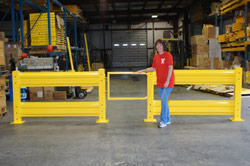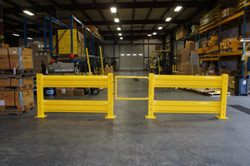 Download a printable version of our Swing Gate Specifications Sheet or
Swing Gate Installation Instructions.
The instructions are a PDF file and you must have Acrobat Reader to open the file.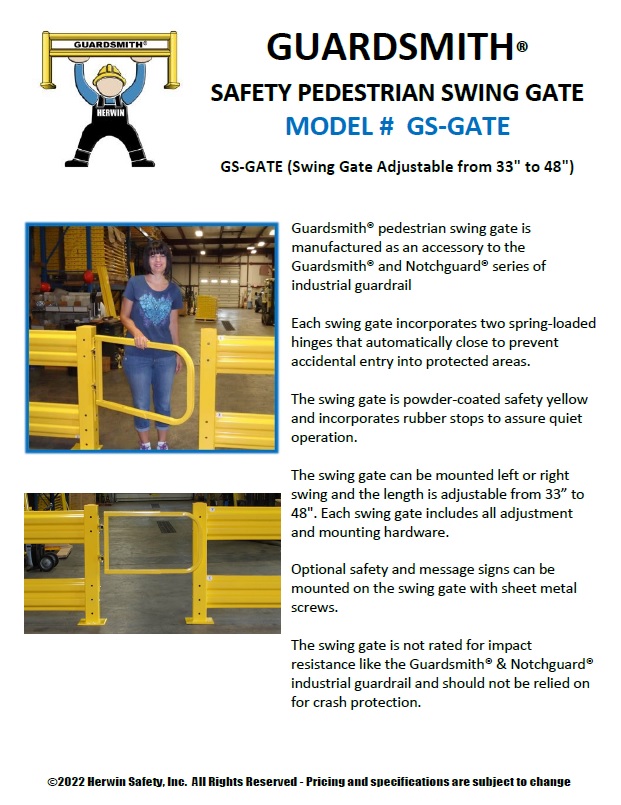 Serving Industry and Government Worldwide
Guardsmith® industrial safety guardrail, and the patent-pending Notchguard® industrial safety guardrail from Herwin Safety, Inc. improves workplace safety in industrial, commercial and government complexes, manufacturing plants, warehouses, and depots.

Call Herwin Safety, Inc. and Speak with Our Experts
If you have questions about the guardrail specifications for your project, plan or design, contact Herwin Safety, Inc. and speak with our guardrail specialist.  We'll be happy to answer any of your questions.
CALL TOLL FREE at 1- 800-868-5438 in US and Canada or International 1-724-446-2000. Our sales personnel will be happy to answer your questions and will confirm the order, payment terms and shipping date.
Our sales personnel will be happy to answer your questions and gather the necessary information.
We will evaluate your needs and develop an economical material list for your project, price the order, provide an estimate of freight costs with lead time, and fax a completed quote back to you within one business day.
Safety Swing Gate
February 20, 2017