Exteriorguard® in the News!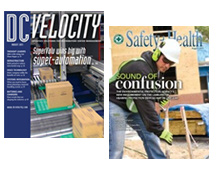 Exteriorguard® in DC Velocity Magazine and Safety + Health Magazine. Visit our Press page to learn more.  Then contact us today!
Exteriorguard® Guardrail – Highly Visible Yellow Rails. Check out our Exteriorguard® Details page for more information.
Download our Guardrail Architectural Engineering Product Specs.
Fill in the quantities desired for each item.
Complete the contact information and click the Submit Button.
We will contact you to confirm availability, payment terms, freight to your job site, and shipping date.
Due to the recent increase in raw materials and fuel costs, all prices are subject to change. All pricing will be confirmed at time of shipment.
Exteriorguard®
February 20, 2017