Displayguard® Software
Safety is important in every workplace.  And Displayguard® software makes it easy to communicate with all personnel.
The perfect addition to any industrial safety program.
Displayguard® software supports multiple safety signs and allows you to schedule messages for future dates and times.
Microsoft® Windows® software simplifies installation on individual PC's or on your network of computers.
User name and password security features limit program access solely to authorized users, and establishes user levels of access.
Create custom messages for your Displayguard® safety signs, or select from over 250 preset safety messages in the software database.
The default calendar is ideal for displaying a daily count of accident free days.
Displayguard® use is monitored continuously.  A log of daily activity, sorted by user, date, and time can be printed for analysis by the IT administrator.
Software communicates with Displayguard® safety signs via four methods:
COM Port/RS232 Cable
LAN (Local Area Network) with TCP/IP
Dial-up Modem/telephone line
Wireless transmitter/receiver
Program Custom Industrial Safety Messages or Choose Preset Messages
The database of preset safety messages is classified into five categories that limit user access based on an access security level and conform to the Occupational Safety and Health Administration's safety message clarification system.
Users can select a message from a list of over 250 preset safety messages that contain general employee information to emergency instructions, or users can create and run a message in their own words, from "Safety in the workplace is #1," to "Congratulations Second Shift for a Perfect Safety Record."
Our software can schedule and transmit different messages to two or more Displayguard® units simultaneously. Individual messages can be sent to one sign or to groups of signs.
A message-access pecking order gives security personnel or executive management the power to interrupt and override Displayguard® unit messages during crisis situations.  Keep safety in the workplace number one; add one or more Displayguard® safety signs to your industrial safety program.
Contact Herwin Safety, Inc. today to learn more about how Displayguard® can help you improve your industrial safety program.
Serving Industry and Government
The patented Displayguard® industrial safety LED display, manufactured by Herwin Safety, Inc. , was created to enhance workplace safety in industrial, commercial and government complexes, warehouses, and depots.  When observing the operation of our LED displays, manufacturers, material handlers, contractors, and floor operating employees can readily appreciate the unit's durability, ease of use, and visibility.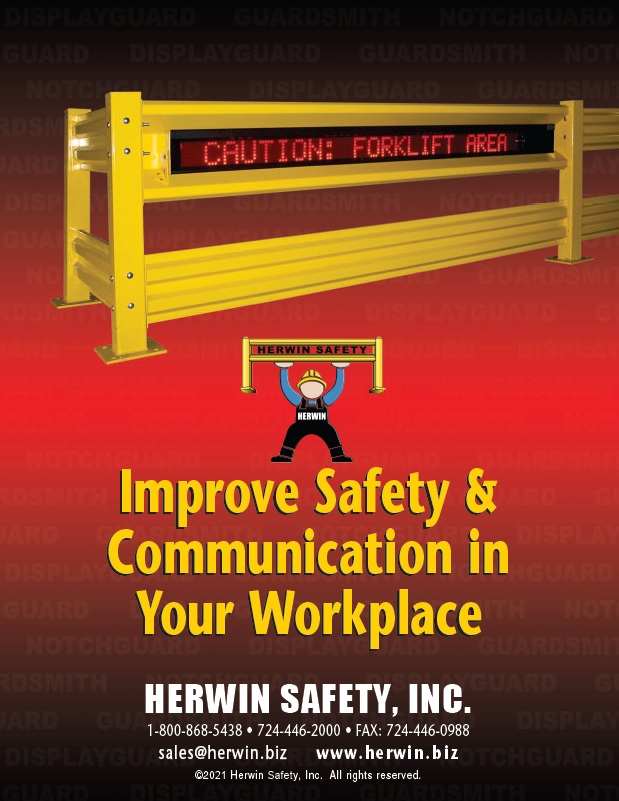 Please click on the thumbnail image to view an enlarged software screenshot.
Setup Users

Setup Units

Preferences

Define Message

Choose Message

Displayguard® Software
February 20, 2017